Texas Prevention Resource Centers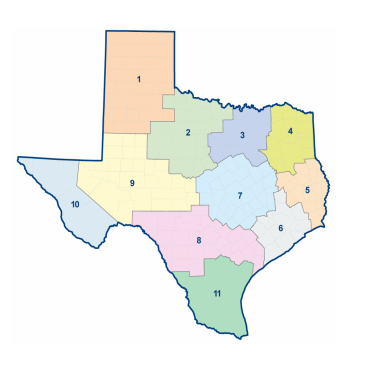 REGION 1
Lola Coppage, Coordinator
2345 50th St., Suite 100
LUBBOCK, Texas 79412
806/780-8300 FAX: 806/780-8383
Toll-free: 866/300-7377
Email: lola.coppage@mccaod.com
Web Page: http://www.prc1.org

REGION 2
Kristi Le, Coordinator
104 Pine St., Suite 4
ABILENE, Texas 79601-5926
325/673-3503 FAX: 325/673-3717
Toll-free: 800/588-8728
Email: kristi.le@arcadatx.org
Web Page: http://www.prc2.org

REGION 3
Stacey Davis, Coordinator
TBA, PRC Program Assistant
1349 Empire Central Drive, Ste. 800
DALLAS, Texas 75247
214/522-8600 x 204 FAX: 214/521-7253
Toll-free: 800/246-HOPE (4673)
Email: Sdavis@dallascouncil.org
Email: TBA
Web Page: https://prc3.org

REGION 4
Sharlisia Moore, Region 4 PRC Coordinator
East Texas COADA
708 Glencrest Ln.
LONGVIEW, Texas 75601-7936
903/753-7633, Ext. 230 FAX: 903/247-1331
Toll-free: 800/441-8639
Email: smoore@etcada.com
Web Page: http://www.prcfour.org

REGION 5
Melissa Mallory, Coordinator
1407 N. University Dr., Suite B-2
NACOGDOCHES, Texas 75961
936/569-7678 FAX: 936/564-6693
Toll-free: 855/617-0799
Email: nsdf@suddenlinkmail.com
Web Page: http://www.prc5.org

REGION 6
Angie Cano-Garza, Coordinator
303 Jackson Hill St.
HOUSTON, Texas 77007
281/200-9118 FAX: 713/526-8257
Toll-free: 888/655-3328
Email: prc6@council-houston.org
Web Page: http://www.prc6.org

REGION 7 
Mary Mattingly, Coordinator
4001 E. 29th St. Suite 90
BRYAN, Texas 77802
979/846-3560 FAX: 979/846-3213
Toll-free: 866/448-1699
Email: info@bvcasa.org
Web Page: http://www.bvcasa.org

REGION 8
Gyna Juarez, Coordinator
AT&T Bldg. 1, Ste. 100
7500 Hwy. 90 West
SAN ANTONIO, Texas 78227
210/354-3331 FAX: 210/225-4768
Toll-free: 800/772-8079
Email: gjuarez@sacada.org
Web Page: http://www.sacada.org

REGION 9
Carrie Bronaugh Coordinator
Permian Basin Regional COADA
120 E 2nd St.
ODESSA, Texas 79761
432/580-7778 FAX: 432/580-5134
Toll-free: 800/332-2174
Email: cbronaugh@pbrcada.org
Web Page: http://www.reg9prc.org

REGION 10
Susan Hernandez, Coordinator
Texas A & M University
10400 Socorro Road
EL PASO, Texas 79927
915/860-9528 FAX: 915/860-9573
Toll-free: 877/860-9528
Email: shernandez@archmail.tamu.edu
Web Page: http://www.prc10.org

REGION 11
Daniel Rodriguez, Coordinator
5510 N Cage Blvd., Ste. C
PHARR, Texas 78577
956/787-7111 ext. 238 FAX: 956/781-8108
Toll-free: 866/484-9689
Email: drodriguez@rgvcouncil.org
Web Page: http://www.prc11.org
Department of State Health Services Mental Health and Substance Abuse
Information Center/RADAR State Center
Mimi Martinez McKay, Director
Christopher Cregeen, Librarian
909 W. 45th St., Mail Code 2083
AUSTIN, Texas 78751
Toll-free: 866/378-8440 ext. 2610 FAX: 512/419-2063
Email: mimi.mckay@dshs.state.tx.us
Email: chris.cregeen@dshs.state.tx.us
Web Page: http://www.dshs.state.tx.us/sa
Mailing address appears above. Physically located in
building 631, room 1069. Contact us for directions.